Growing up in Taiwan, every single person I knew owned one of these ICONIC rice cookers. The Tatung Rice Cookers come in a variety of colours, but my family has always owned a green one. When my family immigrated to Canada, we brought one over. And when that one broke, my parents brought one back when they travelled to Taiwan one Summer. Seriously, that's how much we love this rice cooker.
Gauge
5 Round Circle = 1.5" with a 2.75mm hook
Gauge isn't super important for amigurumi, but I included it just in case you want to check your gauge. Being a little off should not affect the final product too much. You can learn more about how to measure gauge for amigurumi here!
**Disclosure: Some of the links in this post are affiliate links. This means that, at no additional costs to you, I will earn a commission if you click through and make a purchase. You can read a little more about that here!
---
---
Yarn I Used
I used WeCrochet Shine Sport Yarn for this toy; however, you can use any yarn as long as you correspond your hook to the weight of your yarn. For this pattern, I used roughly 7g of Grapefruit/Peapod, 6g of Platinum, and a little bit of Black. (1 skein of yarn is about 50g)
It's currently out of stock on their site, but it's honestly one of my favourite yarns to work with.
Free Tatung Taiwanese Rice Cooker Amigurumi Ornament/Keychain Crochet Pattern
The difficulty level of this pattern is Easy. The finished toy measures to be about 1.75 in (4.5 cm) tall.
This pattern in written in US crochet terminology.
Note: To protect my work, I have disabled right click and printing on my site because I have experienced theft in the past. Please do not copy my patterns in any way. By copying or distributing my patterns without permission, you are making it difficult for designers like me to continue doing what I love. Doing so also discourages me and will prompt me to stop sharing my patterns freely. If you wish to utilize the free patterns, you may do so on my site. Thank you so much for your understanding and for being respectful!
If you have an issue with how I choose to share my free patterns on my site, read this.
---
If you wish to print out the pattern, you can purchase the ad-free, printable PDF of the Tatung Rice Cooker Ornament Pattern from the shop. ($3 CAD)
By purchasing the printable version, you are also supporting me directly. Your support allows me to continue to create new patterns and maintain the site! 🙂
Please do not reprint, sell or claim the pattern as your own. If you wish to share this pattern, you may link to the free pattern on the blog. Please do not copy and post the pattern onto your site.
---
---
Please note that the patterns are worked in continuous rounds unless otherwise stated.
TERMINOLOGY

st(s): stitch(es)
ch: chain
sl st: slip stitch
sc: single crochet
inc: two single crochet in one stitch
dec: invisible decrease, single crochet two stitches together through the front loops only
BLO: crochet only in the back loops (loop away from you) of each stitch
(…) x #: repeat anything in the parenthesis however many times the number indicates
[#]: total number of stitches for that row
#sc: one sc in the following # stitches
THINGS YOU NEED
WeCrochet Shine Sport Yarn in Grapefruit (or Peapod), Platinum, and Black
2.75mm Crochet Hook
Scissors
Darning Needle
Locking Stitch Markers (Optional)
Pins
Polyfil Stuffing or Scrap Yarn
Black and Red Embroidery Thread
White Felt
Fabric Glue
Keychain Findings, Pliers, E6000 Glue or an industrial adhesive of your choice (Optional)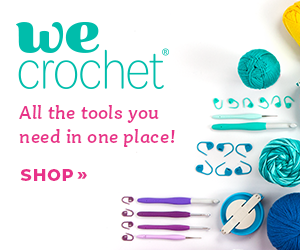 ---
Body
starting with Peapod or Grapefruit yarn
1 6sc in magic circle [6]
2 (inc) x 6 [12]
3 (sc, inc) x 6 [18]
4 sc, inc, (2sc, inc) x 5, sc [24]
5 (3sc, inc) x 5, 3sc, (sc, sl st) in the last st [30]
6 BLO, sc in all sts [30]
7-9 sc in all sts [30]
10 (9sc, inc) x 3 [33]
11 sc in all sts [33]
12 5sc, inc, (10sc, inc) x 2, 5sc [36]
13 sc in all sts [36]
switch to Platinum yarn
14 (11sc, inc) x 2, 11sc, (sc, sl st) in the last st [39]
15 BLO, sc in all sts [39]
16 (11sc, dec) x 3 [36]
17 BLO, sc in all sts [36]
18 2sc, dec, (4sc, dec) x 5, 2sc [30]
19 (3sc, dec) x 6 [24]
20 sc, dec, (2sc, dec) x 5, sc [18]
21 (sc, dec) x 6 [12]
Fasten off, stuff fully, close hole and weave tail in through the centre of the top to the bottom. Squish the top and bottom down.
Slip stitch in the front loops of Row 15, then slip stitch in the first front loop (see photo below) [40] Fasten off, and weave the tails in.
---
---
Lid Handle
with Black yarn
1 6sc in magic circle [6]
2 BLO, sl st in all sts [6]
Fasten off, leave a tail for sewing.
Handles
Make 2
with Black yarn
1 Ch 4, sc in 2nd ch from hook, 2sc, turn [3]
2 Ch 1, BLO, 3sc [3]
Fasten off, leave a tail for sewing.
---
---
Assembly
Pin the Lid Handle onto the top of the lid and sew in place.

Pin the Handles onto the sides, one row below where the Platinum yarn starts, and sew in place.
With Black yarn, embroider 3 little dots underneath the rice cooker, making sure that two of the dots are lined up equally when you are looking at the rice cooker front the front. Go over each dot twice so that the bump protrudes out a little more.
---
---
Cut out a small trapezoid with your felt and round out the corners.

With your Black embroidery thread, embroider an upside down "T". Make the horizontal line a little bit thicker than the vertical one.

With your Red embroidery thread, embroider a short line underneath the upside down "T".
Glue the felt onto the front of the Rice Cooker.
Optional: To make this into a keychain, attach a keychain ring to the top of the Lid Handle with a jump ring. And this part isn't necessary at all, but if you want to make sure your jump ring doesn't pop open, you can dab a little bit of E6000 in the gap of the jump ring.
You have just finished your Tatung Rice Cooker Ornament/Keychain!
---
Please leave me a comment down below (or contact me) if you have any questions about this pattern. I would also love to see your creation so don't forget to tag me (@olliehollycrochet) on Instagram or use the #olliehollycrochet! Please let me know in the comments what you would like to see next!
If you find any mistakes in the pattern, please contact me and let me know! I do my best to catch my mistakes when I edit my patterns but I sometimes miss the little things.
You may sell products made from this pattern in small quantities but please clearly credit the design to me, Abby Sy of Ollie + Holly and provide a link to my blog www.OllieHolly.com. Permission is NOT granted for mass production or factory manufacturing of any kind. Thank you for being respectful and for your understanding!