Hi! It's been a while, eh? My vacation to Tokyo is over and I'm ready to get back to writing more posts!
A little while back, my friend Rachel suggested that I make a post about the materials and supplies that I use to create my amigurumi projects. It's something that I've always wanted to share, but because I was constantly working on patterns, I didn't really have the time to sit down to write this.
However, I am currently bored out of my mind sitting in front of Gate C17 at Saint Paul International Airport in Minneapolis for a 6 hour layover, so I figured this would be the perfect time to finally write this post.
Disclosure: Some of the links below are affiliate links. This means that, at no additional costs to you, I will earn a commission if you click through and make a purchase. You can read a little more about that here! I also wanted to just quickly add that these are things that I have been using waaaay before I became an affiliate.
---
Tools I Use:
The crochet hooks I use are these ones from Knitpicks. Before purchasing these, I was using steel crochet hooks, but I started developing hand cramps whenever I used them. So when Knitpicks had a sale, I took the plunge and got the set. I'm SO glad I did, because they're a huge upgrade from the steel hooks. I love that they're super colourful and that the handles are rubber and comfortable to hold. I also liked that it was a set of different sizes of hooks; this made it a lot easier for me to create different projects because I did not need to go out and buy hooks. It's also very reasonably priced. My only issue is that there aren't a lot of "in-between sizes" (like the .25/.75mm increments).
I also got my darning needles (lace & regular sizes) and stitch markers from Knitpicks. The darning needles are Clover brand and they're nice, but very standard. The stitch markers are also your standard clasp stitch markers. I only got these off of Knitpicks because I liked the colours and needed to purchase more items for free shipping.
I got this set of amigurumi safety eyes from Amazon. I'm not suuuper in love with the quality of these, but it does come with a bunch of different sizes so that was nice.
After about 15 projects in, I realized that I use a lot of 6mm safety eyes and was running low. So after I ran out of 6mm safety eyes from the previous set, I purchased these. The quality of these eyes are much nicer and now I have enough 6mm safety eyes for 150 toys!
As I crocheted more and wanted to create more details in my work, I learned that you could needle felt details onto your amigurumi projects. I found this set of wool roving and felting tools on Amazon. The tools that came with the set are honestly a little crappy, but it's good enough for what I need it for. I liked that this set came with so many different wool roving colours because you never know what you're going to need. The quality of the items that come in the set aren't amazing, but it's very affordable.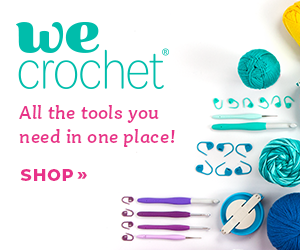 ---
Yarns I Use:
I've tried a lot of different yarns from Knitpicks, but the Shine Sport is my favourite. I love that the yarn doesn't split easily and that it has a beautiful sheen. It's also super soft, comes in very vibrant colours, AND is washable. Most of my amigurumi projects are made with this yarn because I love how smooth the yarn looks when it is crocheted. I've also made a couple of clothing items with this yarn, including my wedding dress!
However, as much as I love this yarn, I do have some slight issues with it. The colour range for this yarn isn't great, so it's sometimes hard to get a true colour match for some of my projects. I also think that some colours aren't properly represented through the pictures on the site. Some of the greys are a little bit more beige and most of the colours look a little bit different in real life.
After running into some colour matching issues with my Shine Sport yarn, I decided to look for something with a wider range of colour options. That search led me to Paintbox yarns. I chose to go with the cotton yarn from Paintbox instead of the acrylic because I'm personally just not a big fan of the texture of acrylic yarns.
I love that the Paintbox Cotton Aran allows me to make bigger items (or small items quicker) and that it comes in SO many different colours. It's not quite as soft as the Shine Sport but the projects that this yarn creates are a little firmer which allows them to stand up a little better. It does split a little more than the Shine Sport does, but it's not something that I have a hard time working around.
Here are some examples of projects I've made with Paintbox Cotton Aran:
---
I have used other yarns for my amigurumi projects in the past, but these two are the yarns I keep going back to. I hope that this post is helpful to some of you and let me know in the comments if you have yarns or tools that you love.
I'll be getting back to working on more content after unpacking my things and settling back in!